Join us for snacks, evening social events, educational programming, networking opportunities, and lots of fun.
Our annual Ram and Ewe Sale is a jam-packed multi-day affair. The fun begins every year when our member consigners arrive at the Eastern Montana Fairgrounds and their sheep settle in for the week.
When: Yearly in September, check the event calendar for this year's date
Where: Eastern Montana Fairgrounds, Miles City, MT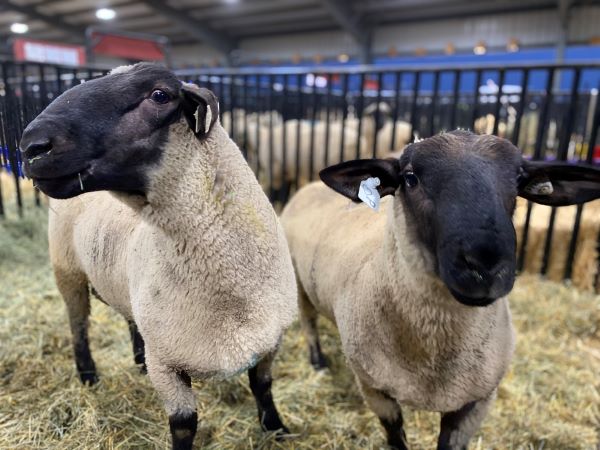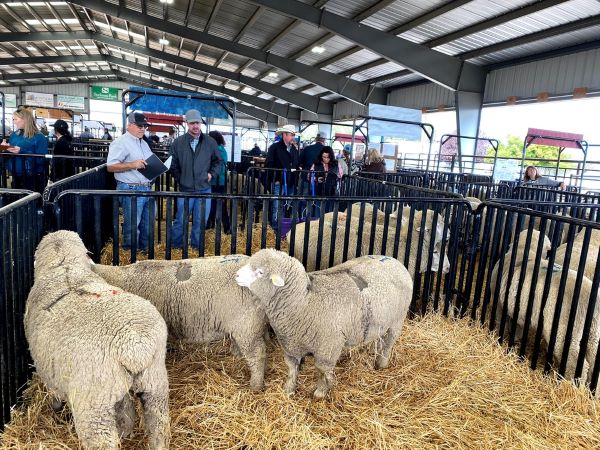 On-site ewes are individually inspected by our sale veterinarian for general health, clear eyes, sound mouth, and udders.  The ewes offered have been treated for keds at home. Any ewe not passing inspection will be screened out and will not sell—we want buyers to take home ewes that are functional and ready to go! 
We work with Frontier Productions LLC to facilitate the bidding process. To expedite your registration, please create an account and register to bid online before arriving.
I can't attend in person but want to bid.
Buyers not able to attend the sale in person need to register to bid online at frontierstockyards.com. Online buyers should register 2 days in advance of the sale and preferably use a computer with high-speed internet on sale day to provide the best bidding experience. Sales are streamed live. Phone bidding is also available.
Frontier Productions, LLC handles the online sale, and the online catalog will be viewable at https://frontierlivesale.com/ in September.
If you want to sell your ram or ewe at our annual sale, you must first become a member of the Montana Wool Growers Association.  The ability to consign is a perk for all our producer members. Registration is simple, head over to the membership page and submit your dues online.
Once you are a MWGA member, please reach out to our Ram or Ewe Sales Managers to get registered.
Cheryl Schuldt, Ewe Sale Manager: (406) 945-0404
TBD, Ram Sale Manager: (406) TBD
Ask for the Ram Sale Rate!
Miles City Hotel: 1615 S Haynes Ave.
Miles City Hotel & Suites: 1720 S Haynes Ave.
The History of the Montana Ram Sale
In 1950 the Montana Wool Growers first sponsored the Montana State Ram Sale in Miles City. There are very complete records from that date forward. In talking to older members of the Wool Growers, they would tell about the ram sale in Miles City during the 1930's and 40's.
Then a picture showed up of the 1928 ram sale in Miles City. In researching that picture it was learned that 1928 was the third sale for the Eastern Montana Ram Sale. The picture of the rams was probably to show off the new barn as reported in the April 1928 Montana Wool Growers magazine.
"Due to the efforts and careful planning of J.H. Bohling Secretary of the Eastern Montana Fair and Ram Sale, the contract has been let to build new and permanent pens with roofs, and a covered sale ring for the Ram Sale held in connection with the Eastern Montana Fair. The building and ground will cost $3000.
This sale was sponsored by the Eastern Montana Wool Growers in its early years and later by a group of Miles City businessmen and local sheepman. By 1950 they were ready to turn it over to someone else and the Montana Wool Growers has run it ever since.
Prior to 1950, the Montana Wool Growers had sponsored state ram sales around Montana and for a while there were several Wool Grower sponsored sales each year in different parts of the state. The earliest of the "modern" Montana Wool Grower magazines started in 1928 (we have issues from the 1880s and 90s), and it reported that the 1928 sale would be the eleventh Montana Ram Sale.
Send us a message through our contact form and a sale manager will get back to you!